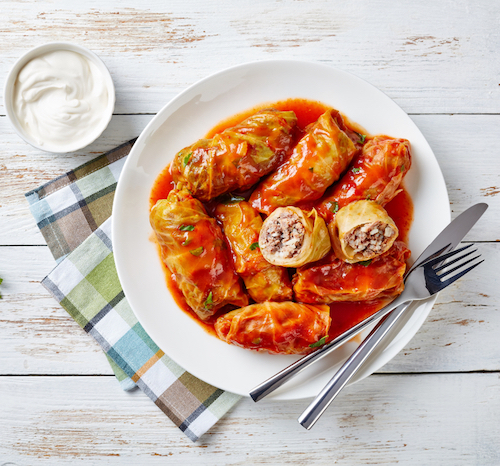 Ingredients for 10-12 pieces:
-500 g of minced pork
-10 - 12 pieces of raw cabbage leaves
-1 - 2 thinly sliced ​​cabbage leaves
-400 ml passion tomatoes
-1000 ml of water
-70 g canned tomatoes (a small can)
-150 g smoked ham / loin / ribs
-1 head smaller onion
-2 cloves garlic
-1 teaspoon ground cumin
-2 pcs ground sweet red pepper
-5 tbsp rice
-salt pepper
Preparation
To make the stuffed cabbage, cut out the thickened part of the cabbage leaves, if very thick. Cook in hot water for 1-2 minutes.
In a shredder, finely chop the smoked meat and onions. Mix with the minced meat. Add salt and pepper, season with cumin and paprika, pour in the rice and mix well. The scalded cabbage leaves are filled with the meat mixture and well tightly wrapped.
In a bowl, mix the passata, condensed tomatoes and water. Put half of the sliced ​​cabbage in the bottom of a large bowl and approx. 1-2 dl of tomato sauce. Put the stuffed cabbage in it, pour in the remaining tomatoes and cover. Bring to a boil, then remove from the heat and cook for 1 hour. Then remove the lid and cook for another 30 minutes. Serve with cold sour cream and fresh bread.